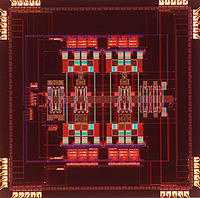 Our research efforts are focused on advancing the performance of CMOS integrated circuits at analog sensor interfaces. We investigate design of miniature, low-power, highly accurate sensing microsystems, that have a significant and pervasive impact on a large number of applications, ranging from new generation of biomedical devices for personal health monitors, hearing aids or implantable neural prostheses to communication devices and radiation detectors.
The systems are embedded with intelligence by incorporation of adaptation and learning into the system that compensate for the limitations of the sensor interface, such as parasitic effects, low sensitivity and nonlinearities.
See description of projects.